Gluten-Free Focaccia Bread. This Gluten-Free Focaccia requires only 6 ingredients and 15min prep time. It is vegan-friendly and low FODMAP.
Have you ever tried Focaccia bread? I just can't get enough of it! It is the softest and most flavourful bread that I've ever tried. Now, I finally perfected my gluten-free version of focaccia bread! And guys this is a real deal focaccia bread, you won't even be able to tell that it is gluten-free!
Gluten-Free Focaccia Bread Recipe
This Focaccia bread is pillowy soft, tender, bursting with flavor, satisfying, very simple to make and so delicious. Rosemary, olive, and olive oil is probably the most delicious combo ever.
How to make this Gluten-Free Focaccia Bread?
There are only 2 steps to making this Focaccia Bread:
1.You just need to mix all the ingredients in a bowl, cover the bowl and let the dough rise for about 30min or until double in size. (It is normal if it looks more like a batter than a dough, that is exactly how it should be).
2.Pour the dough out onto the prepared baking sheet and gently press out using your fingers into a rectangular shape. Use your finger to poke several holes in the dough, drizzle with more olive oil, top with olives and sprinkle with sea salt, rosemary, and parmesan cheese (omit parmesan cheese for vegan option). Bake and your Focaccia bread is ready!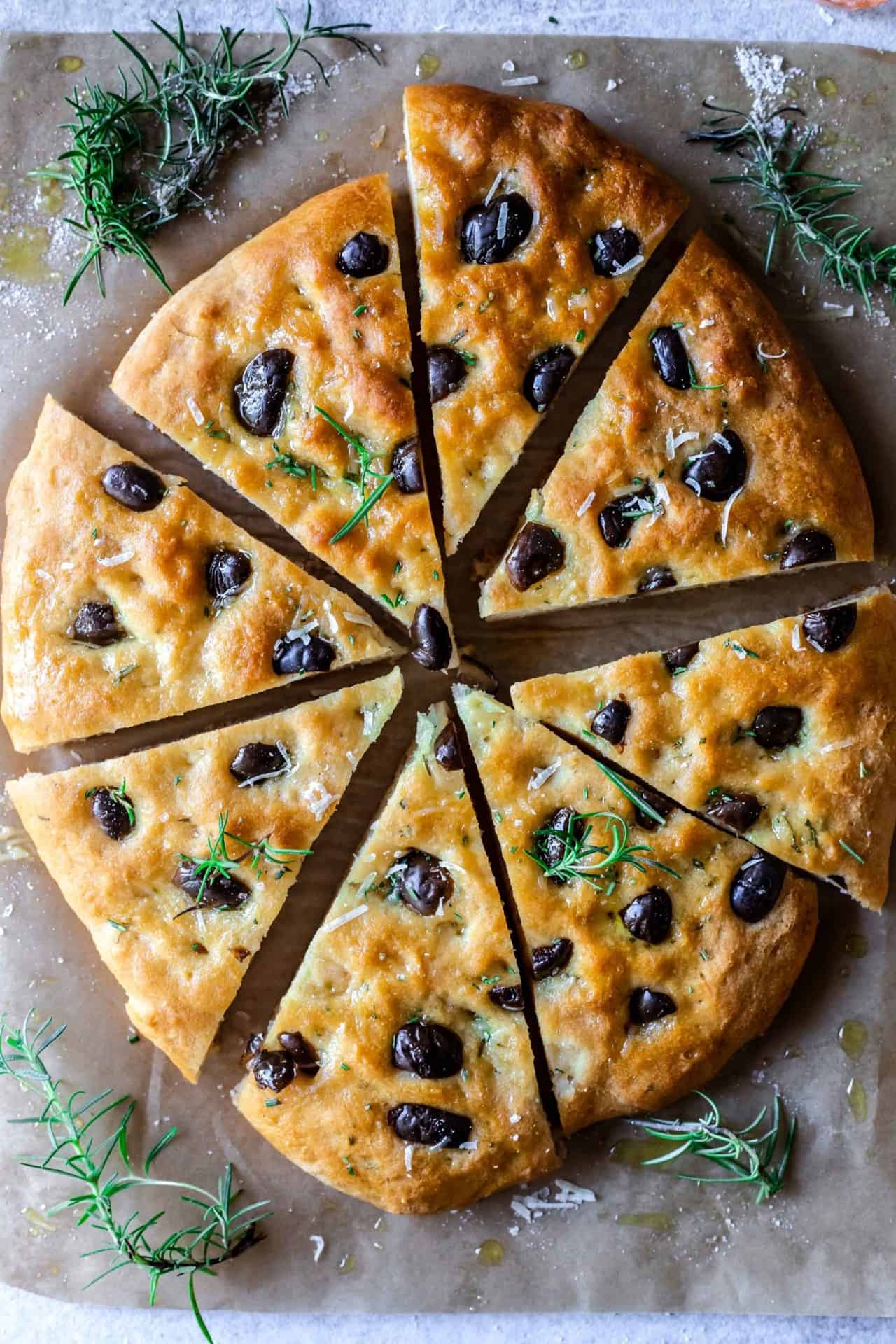 How to store Gluten-Free Focaccia Bread.
Gluten-Free Focaccia Bread is will stay fresh covered with a plastic wrap at room temperature for up to 2 days. To reheat put it in the toaster or oven at 190°C (375° F) for 10min, You can also freeze Focaccia Bread,  cut it into pieces, wrap each piece in plastic wrap, place it in a freezer bag, and freeze for up to 1 month. To heat up, place in the oven at 190°C (375° F) for about 15min or until heated throughout.
what flour to use to make it?
I like to use my universal homemade gluten-free flour blend. Which is a mix of the following flours :
3. Sweet Rice Flour (Glutinous Rice aka Sticky Rice)
4. Tapioca Flour (tapioca starch is the same as tapioca flour)
5. Xanthan Gum
If you can't make that one, you can try with any gluten-free flour mix (just make sure it contains xanthan gum because that helps in binding the dough). The final result using different flour mix might vary slightly, depending on what flours your mix contains.
To find the recipe for my gluten-free flour mix click, HERE.
Tips for baking the best gluten free focaccia:
1.Make sure the water is at the right temperature: The water should be around 50 degrees C (120 degrees F). I don't use any thermometer to measure, instead, I use a touch-test, if you can't keep your finger inside for a couple of seconds, it's too hot. The warmth activates the yeast, however very high heat kills the yeast ( which will result in your yeast, not proofing and your dough not rising)
2.Gluten-free focaccia dough should look more like a batter than a dough. If you think your dough is too soft, you are on the right path! That is exactly how it should be. Gluten-free focaccia dough is different the normal bread dough, so no kneading is required!
3.Line the baking pan with parchment paper. Focaccia dough is quite sticky so the best way to keep the dough from sticking is to use parchment paper.
4.Don't skip on the olive oil. Olive oil is the key to a perfect texture for your focaccia bread. It makes the outside golden and crispy and the inside soft ad tender.
*FODMAP tips:
*To make sure that your flour mix is fodmap friendly I recommend that you make your own gluten-free flour mix, I always make this one. Or always read the ingredients of the store-bought gluten-free flour mixes. Make sure your mix doesn't contain soy flour, chickpea/besan/gram/garbanzo bean flour, lentil flour, coconut flour, amaranth flour, or lupin flour.
*All the ingredients used in this recipe are FODMAP friendly, however, As a general rule always read the labels of the ingredients that you use as there can be sneaky FODMAP's in any product. To educate yourself on which foods are high in FODMAP's I'd strongly recommend downloading Monash Unversity FODMAP Diet.
Gluten-Free Focaccia
This Gluten-Free Focaccia Bread is pillowy soft, tender, bursting with flavour, satisfying, very simple to make and so delicious.
Ingredients  
350

g

gluten-free flour

(2 1/4 cups)

1 1/2

tsp

baking powder

1 1/8

tsp

salt

1

Tbsp

sugar

2

Tbsp

instant yeast

(8 grams)

350

ml

lukewarm water

(1 1/2 cup)

3

tbsp

olive oil
For topping
1

tbsp

olive oil (for drizzling the foccacia bread before baking)

100

g

olives

1

tbsp

fresh rosmary

1/2

tsp

coarse salt

2

tbsp

parmesan cheese or vegan parmesan cheese

(optional)
Instructions 
In a large bowl, whisk together flour, salt, and baking powder. Set aside.

In a smaller bowl combine warm water with year, sugar, and olive oil. Stir to combine, then let it bloom by setting it aside to rest for 3-5 minutes. (It should start to look foamy on top)

Pour the water/yeast mixture over the dry ingredients and stir to combine. Note that your dough should look more like a batter. Kneading is not required here.

Cover the bowl with plastic wrap or a clean dish towel and set it to rise in a warm place for about 40min.

During the last few minutes of the rise time, preheat the oven to 190°C (375° F)

Line a baking sheet (standard cookie sheet pan, you will form the focaccia bread with your hands) with parchment paper and drizzle with a little bit of olive oil. The olive oil gives the bottom crust great crunch and flavor.

Pour the batter out onto the prepared baking sheet and gently press out using your fingers or the back of a spatula into an oval or rectangular shape (about 3/4 of an inch thick)

Use your finger to poke several holes in the dough all the way to the bottom of the pan. Press the olives into the dough. Brush with olive oil and sprinkle with fresh rosmary, coarse salt and grated parmesan cheese (if using)

Bake at 190°C (375° F) for 25-30 minutes, or until golden brown. Remove from oven and let cool at least 10-12 minutes before slicing and eating.

The focaccia will keep at room temperature for up to 2 days or in the freezer for up to 1 month. Read more about storing tips, in the article above
IF YOU HAVE PINTEREST, YOU CAN FIND ME HERE. AND DON'T FORGET TO PIN THIS FOR LATER! 😊