This is a complete Tim Hortons Gluten-Free Menu Guide. Here you will find all the gluten-free options that they have available. In addition, this guide will answer the most commonly asked questions, provide you with tips when ordering gluten-free there, and list a few gluten-free Tim Hortons copycat recipes that you can make at home.
Tim Hortons is a Canadian multinational fast-food restaurant chain known for its coffee and doughnuts. The company was founded by Tim Horton, a Canadian professional ice hockey player, in 1964 in Hamilton, Ontario. They currently have over 4,900 locations in 14 countries worldwide, including Canada, the United States, and several countries in the Middle East and Asia.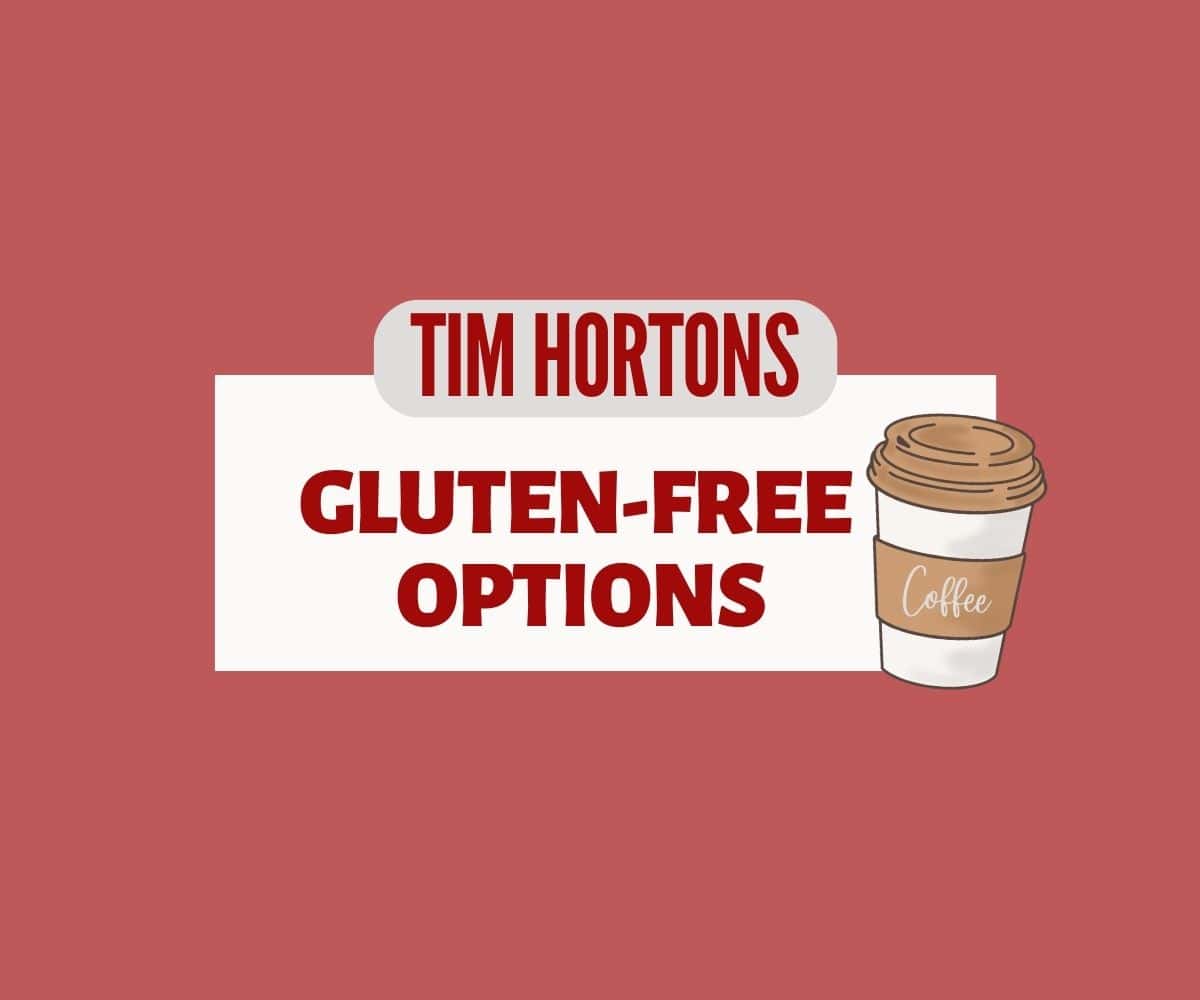 Jump to:
📖 What Is Gluten-Free At Tim Hortons
Tim Hortons offers a variety of items that are naturally gluten-free, however they openly state on their website that there is a high chance for cross contamination with allergens due to the environment that the food is prepared in and recommend that you should avoid eating at their restaurant if you have allergies.However, if you are just avoiding gluten or have a mild sensitivity here is a list of all their menu-items that are not made with gluten.
Hot Beverages
Coffee
Decaffeinated Coffee
Espresso Shot
Americano
Cappuccino
Latte
Flavored Latte Supreme
Tea Latte
Mocha Latte
Hot Chocolate
Candy Cane Hot Chocolate
Caramel Hot Chocolate
French Vanilla Cappuccino
English Toffee Cappuccino
Café Mocha
Apple Cider
Caramel Apple Cider Supreme
Steeped Tea made with whole-leaf
Specialty Teas
Cold Beverages
Iced Capp™ (with milk or cream)
Iced Capp™ with chocolate milk
Iced Capp™ Supreme
Mocha Iced Capp™
Candy Cane Iced Capp™
Caramel Iced Capp™
Iced Coffee
Iced Mocha
Iced Latte
Iced Mocha Latte
Flavoured Iced Latte Supreme
Strawberry Banana Smoothie with Greek yogurt
Strawberry Banana Smoothie without yogurt
Pineapple Orange Smoothie with Greek yogurt
Pineapple Orange Smoothie without yogurt
Mixed Berries Smoothie
Frozen Lemonade (Original)
Frozen Lemonade (Strawberry Flavour)
Frozen Hot Chocolate
Frozen Strawberries & Cream
Frozen Vanilla & Cream
Strawberry Coconut Refresher
Orange Tangerine Refresher
Tropical Mango Nitro Refresher
Orange Tangerine Nitro Refresher
Sunrise Sunset Timsboost
Sky's The Limit Timsboost
Real Brewed Iced Tea
Beverages addition
Whipped Topping
Cold Foam
Chocolate Flavor Syrup
Vanilla Flavor Syrup
Caramel Flavour Syrup
Hazelnut Flavor Syrup
Cookies n' Cream Flavor Syrup
Sugar-Free Vanilla Flavor Shot
Sugar-Free Hazelnut Flavor Shot
Breakfast
Hash Brown
Seasoned Egg Omelet
Seasoned Egg White Omelet
Bacon & Cheese Omelette Bite
Spinach & Egg White Omelette Bite
Bacon
Sausage
Turkey Sausage
Seasoned Sliced Steak
Processed Mozzarella Cheese
American Cheese
Cheddar Cheese
Swiss Cheese
Pepper & Onion Blend
Soups
Creamy Sundried Tomato
French Onion Soup (Broth only)
Potato Bacon Cheddar
Turkey & Wild Rice
There have been reports that the Chili may contain gluten due to Worcestershire sauce. We are trying to confirm with Tim Hortons corporate.
Sides
Kettle Cooked Potato Chips
💬 Commonly asked question when ordering gluten-free at Tim Hortons
Is Tim Hortons chili gluten-free?
According to Tim Horton's allergen menu, their chili is listed as wheat-free. However, there have been reports that the chili might have gluten because of the Worcestershire sauce.
Are Tim Hortons hash browns gluten-free?
Yes, Tim Hortons Hash Browns are gluten-free.
🥘 Copycat Tim Hortons Gluten-Free Recipes
Gluten Free Chocolate Chip Muffins
These muffins are tall, fluffy, filled with mini chocolate chips and taste just like Tim Hortons muffins!
Make the recipe
Tim Hortons Chili Recipe
This chilli tastes just like the one from Tim Hortons and the best part is that you can be confident that it it gluten-free!
Make the recipe
Gluten-Free Timbits
These donut holes are fluffy ,tender and light and taste and look just like Tim Hortons Timbits!
Make the recipe
🌟Tips for ordering gluten-free at Tim Hortons
Check the menu before ordering in case there have been any changes from when this article was published.
If you are uncertain about something ask the staff at Tim Hortons
🔎 Sources
📙 Other Gluten-Free Menu Guides
Please comment below if this Tim Hortons Gluten Free Menu was useful to you or if you detect any inaccuracies.