My love for pizza is endless!😆 I can literally have pizza every day and I won't get bored! However, finding a good gluten-free pizza crust is not so easy. I've tried so many recipes, store-bought pizzas, and different restaurants and still wasn't happy with the pizzas that I tried. They were all a bit too dry, too hard, too crumbly and I was able to tase that they are gluten-free. So I accepted the challenge and started experimenting with creating my own recipe. I won't lie, it was a long process but the result was so WORTH IT! Because this is by far the best gluten-free pizza crust that I've tried!
The Best Gluten-Free Pizza Crust Recipe
This pizza crust is thin, perfectly crisp on the edges and tender in the center, requires only 7 ingredients and it is so delicious!
The flavor is authentically Italian without strong flavors from the gluten-free flour plus it holds any topping very well without becoming soggy or crumbly.
How to make this Gluten-Free Pizza Crust?
It is INCREDIBLY EASY!
Simply mix all the dry ingredients in a bowl, add the wet ingredients and stir to combine until a dough forms.
Let it rise for about 1h at room temperature. Then roll it out, top with your favorite toppings and bake!
What flour to use to make it?
I like to use my universal homemade gluten-free flour blend. Which is a mix of the following flours :
3. Sweet Rice Flour (Glutinous Rice aka Sticky Rice)
4. Tapioca Flour (tapioca starch is the same as tapioca flour)
5. Xanthan Gum
If you can't make that one, you can try with any gluten-free flour mix (just make sure it contains xanthan gum because that helps in binding the dough). The final result using different flour mix might vary slightly, depending on what flours your mix contains.
To find the recipe for my gluten-free flour mix click, HERE.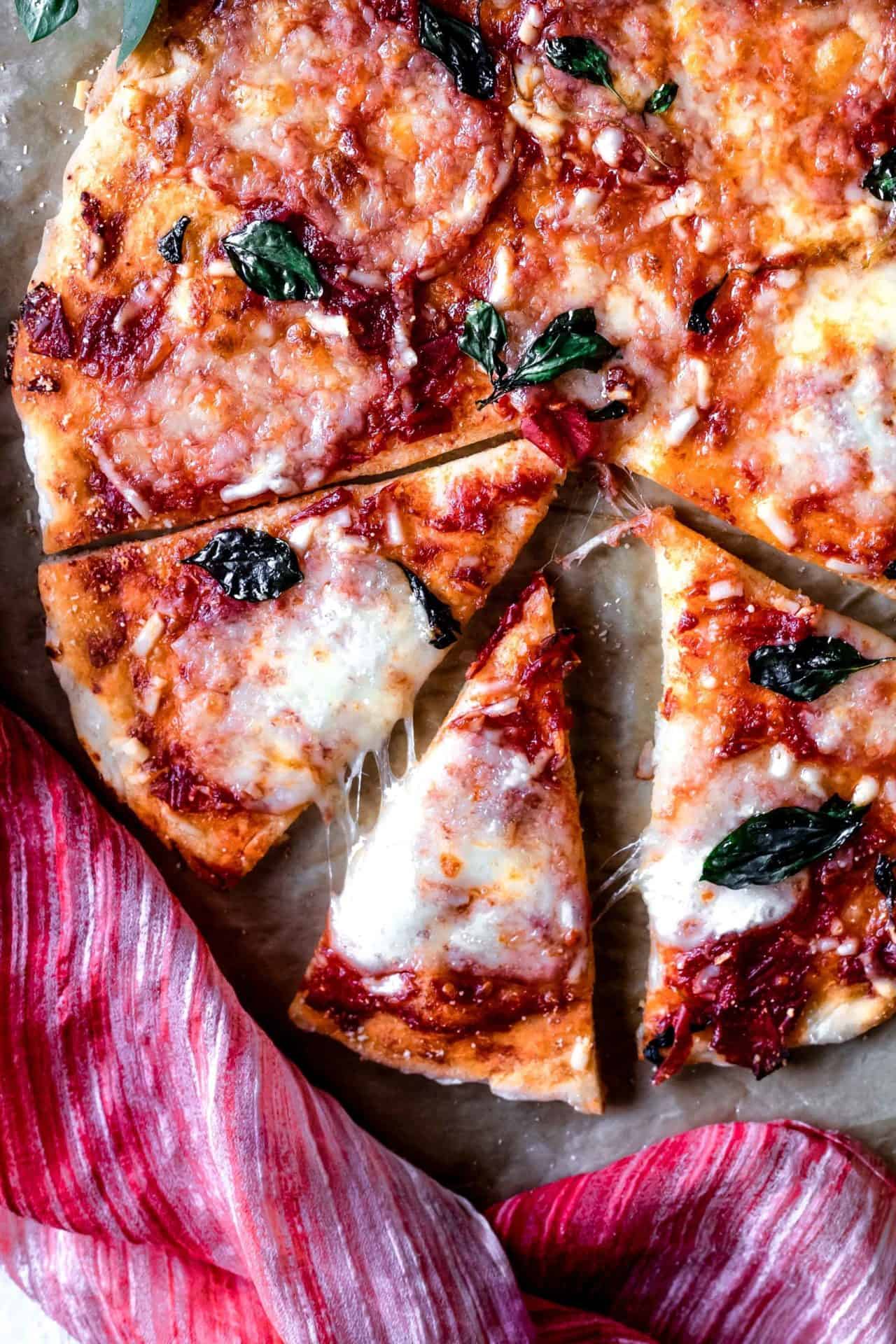 *Low FODMAP tip:
*To make sure that your flour mix is fodmap friendly I recommend that you make your own gluten-free flour mix, I always make this one. Or always read the ingredients of the store-bought gluten-free flour mixes. Make sure your mix doesn't contain soy flour, chickpea/besan/gram/garbanzo bean flour, lentil flour, coconut flour, amaranth flour, or lupin flour.
*As a general rule always read the labels of the ingredients that you use as there can be sneaky FODMAP's in any product. To educate yourself of which foods are high in FODMAP's I'd strongly recommend downloading Monash Unversity FODMAP Diet App
If you are looking for gluten-free & yeast-free pizza crust check out these ones:
Gluten-free, Yeast Free Pizza Crust
The Best Gluten Free Pizza Crust
This Gluten Free Pizza Crust is thin, perfectly crisp on the edges and tender in the center, requires only 7 ingredients and it is so delicious!
Ingredients
170

g

gluten-free flour

4

g

Instant Yeast

1/4

tsp

cream of tartar

1

Tbsp

granulated sugar

90

ml

water

40

ml

lactose-free yogurt

20

g

butter

(melted)

1/4

tsp

salt

toppings of choice
Instructions
Preheat the oven to 200°C(390°F) Fan Mode

In a medium bowl add the flour, cream of tartar, salt, and sugar and whisk to combine well. Add the yeast and whisk one more time. Add the yogurt, melted butter and water, and either with your hands or with a stand mixer fitted with the paddle attachment mix on medium speed for about 3 minutes. The dough should be a little bit sticky. If you are using a mixer you will need to pull away from the sides of the bowl in spots. Because It will not turn into a fully integrated ball of dough on its own.

Press the dough into a ball, cover it and place it in a warm spot to rise until it doubles in volume (for about 40 minutes)

Once the dough has finished rising, turn it out onto a lightly floured surface and sprinkle lightly with more flour. Roll it out (about 3/8 inch thick), top with your favorite toppings, transfer it on a baking tray and place it in the oven

Bake for 10 to 15min on 200°C (390°F) Fan Mode.

Serve while it is warm and enjoy!:)