Autumn is officially here and that means hello to all the comfort food! These Low FODMAP Pumpkin Donuts have been on a repeat for the past couple of days! I've always preferred cream-filled donuts, but these pumpkin ones have become my new favorites!
Low FODMAP Pumpkin Donuts Recipe
These pumpkin donuts are super flavorful, rich, perfectly sweetened and very delicious. The autumn flavor is in every bite. Their texture is soft and tender. I love having them on their own or with a mix of powder sugar and cinnamon. They make a great sweet breakfast or mid-day snack.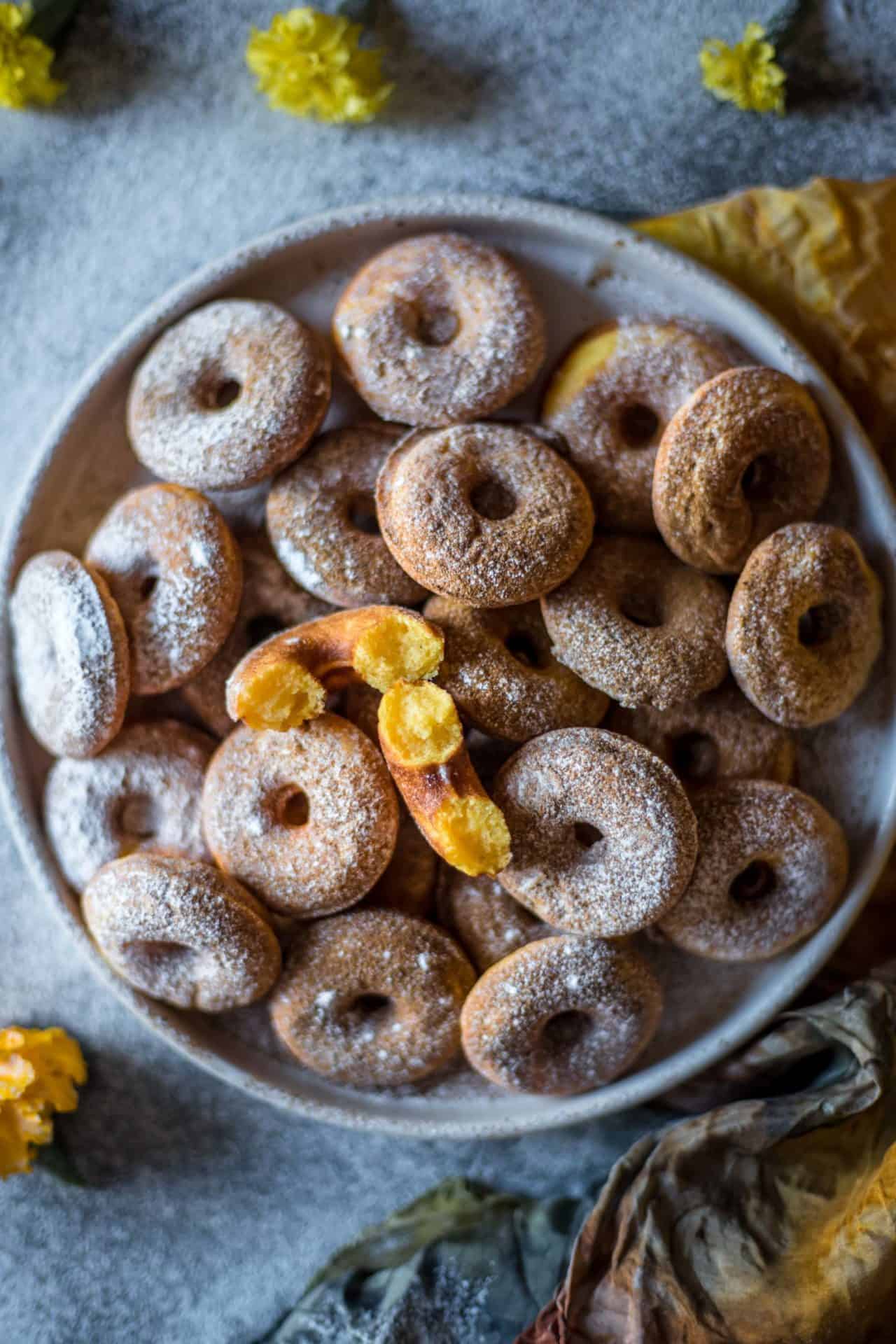 How To Make These Low FODMAP Pumpkin Donuts
Why would you ever bother with having those cold stale store-bought donuts? To make these Pumpkin donuts you will only need 8 simple ingredients and 30 minutes of your time. They are so simple and quick to make and taste so much better than store-bought ones.
what flour to use to make it?
I like to use my universal homemade gluten-free flour blend. Which is a mix of the following flours :
3. Sweet Rice Flour (Glutinous Rice aka Sticky Rice)
4. Tapioca Flour (tapioca starch is the same as tapioca flour)
5. Xanthan Gum
If you can't make that one, you can try with any gluten-free flour mix (just make sure it contains xanthan gum because that helps in binding the dough). The final result using different flour mix might vary slightly, depending on what flours your mix contains.
To find the recipe for my gluten-free flour mix click, HERE.
*FODMAP Tip:
*In this recipe I use canned pumpkin puree. Canned pumpkin puree is Low FODMAP in 75g per portion. Here I use 150g but the donuts serve 4 people, which would be for about 38g to 40g per portion.
*Another option is using Japanese Pumpkin and making a puree yourself. That type of pumpkin is a low FODMAP pumpkin.
*To make sure that your flour mix is fodmap friendly I recommend that you make your own gluten-free flour mix, I always make this one. Or always read the ingredients of the store-bought gluten-free flour mixes. Make sure your mix doesn't contain soy flour, chickpea/besan/gram/garbanzo bean flour, lentil flour, coconut flour, amaranth flour, or lupin flour.
*As a general rule always read the labels of the ingredients that you use as there can be sneaky FODMAP's in any product. To educate yourself of which foods are high in FODMAP's I'd strongly recommend downloading Monash Unversity FODMAP Diet App
*Gluten-Free Tip:
If you are celiac or highly sensitive to gluten, buy certified gluten-free baking powder. Baking powder is naturally gluten-free, however, depending on the manufacturing place and process it could be cross-contaminated.
Low FODMAP Pumpkin Donuts (Gluten-Free)
These Low FODMAP pumpkin donuts are super flavorful, rich, perfectly sweetened and very delicious. The autumn flavor is in every bite.
Ingredients
30

ml

light cooking oil

(2 Tbsp) like sunflower oil

2

large eggs

100

g

Sugar

(1/2 cup)

170

g

canned pumpkin puree

(3/4cup) *see FODMAP Tips above

1

tsp

pumpkin pie spice

1/2

tsp

salt

1

tsp

baking powder

150

g

gluten-free flour

(1 1/4 cup)
For Dusting (optional)
4

Tbsp

a mix of powder sugar and cinnamon
Instructions
Grease and preheat a donut maker. If you don't have a donut maker, grease a donut pan and preheat your oven to 180C.

In a large mixing bowl, beat together the oil, eggs, sugar, pumpkin puree, spices, salt, and baking powder until smooth.

Whisk in the flour until smooth

Fill the wells of the doughnut maker or pan about 3/4 full.

If you are making them in the donut maker bake until it shows ready. If baking them in the oven, bake for about 15 minutes on 180C or until a toothpick or cake tester inserted into the center comes out clean.

You can serve them as they are or dusted with a mix of powder sugar and cinnamon.